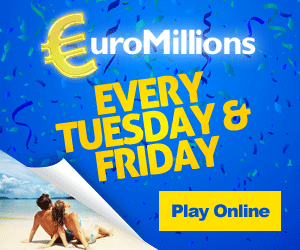 Millionaire Maker
Millionaire Maker is a supplementary EuroMillions game, played exclusively in the UK, which guarantees that at least one ticket holder will win a fixed sum of £1 million in every draw. Participants automatically receive one Millionaire Maker entry for each line of EuroMillions numbers selected without having to pay an additional fee.
Every EuroMillions ticket in the UK therefore contains a Millionaire Maker code alongside the main numbers. The code is randomly generated as the ticket is produced, and consists of three letters and six numbers, such as BBB123456. Vowels are not used in codes.
Each code is then entered into a raffle draw, with all codes having an equal chance of being selected as the winner. On the night of the draw, a single Millionaire Maker code will be drawn at random and the player who possesses the matching code on their ticket will win £1 million. There are no prizes for partial matches; to win, you must exactly match the code that was drawn.
As there is always one guaranteed winner in a standard Millionaire Maker draw, the odds of winning will change depending on how many UK players have bought EuroMillions tickets. The table below shows how the chances of winning are expected to fluctuate depending on whether you play on a Tuesday or Friday.
| Type of EuroMillions Draw | Estimated Odds of Winning |
| --- | --- |
| Tuesday - Minimum Jackpot | 1 in 3.5 million |
| Tuesday - 4x rollover draw | 1 in 4.7 million |
| Friday - Minimum Jackpot | 1 in 5 million |
| Friday - 4x rollover draw | 1 in 6.6 million |
The only way to increase your chances of winning is to buy more EuroMillions tickets, although on occasions all players will have a better chance of success as organisers may decide to draw multiple winning codes. These special draws take place from time to time to mark special occasions, offering many guaranteed more prizes of £1 million.
European Millionaire Maker
The European Millionaire Maker works in very much the same way as the UK version of Millionaire Maker, with draws held occasionally throughout the year. Participants from all nine participating countries are given the opportunity to win a guaranteed life-changing prize simply by matching a code consisting of four letters and five numbers (e.g. ABCD12345). Each country has their own starting letter for each code:
| Country | Starting Letter of Raffle Code |
| --- | --- |
| Austria | A, N, O or W |
| Belgium | B |
| France | F |
| Ireland | I |
| Luxembourg | L |
| Portugal | P |
| Spain | E |
| Switzerland | R or S |
| United Kingdom | H, J, M, T, V, X or Z |