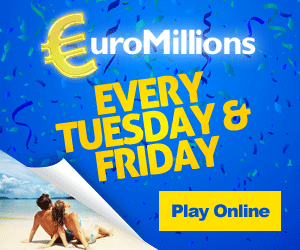 Thunderball
Thunderball offers a fixed top prize of £500,000 and has remained a firm favourite with many lottery players since it was launched in 1999. The game has seen many changes over the years and is now played four times a week on Tuesdays, Wednesdays, Fridays and Saturdays, making it a great option for anyone wishing to win prizes on a regular basis.
A Thunderball ticket costs just £1 and offers good odds of winning any prize at just 1 in 13, while the chances of winning the top prize compare favourably with lotteries such as Lotto or EuroMillions. To play Thunderball, you simply need to select five main numbers from 1 to 39 plus an additional Thunderball number from 1 to 14. It is possible to win a prize just by matching the Thunderball alone, but to win the top prize you must match the entire winning line drawn.
Thunderball Prizes
There are nine prize tiers in Thunderball, all of which have fixed values, so you are guaranteed to win a certain amount regardless of how many other players are in the same category.
How to Win
Odds of Winning
Prize
Match 5 plus Thunderball
1 in 8,060,598
£500,000
Match 5
1 in 620,046
£5,000
Match 4 plus Thunderball
1 in 47,416
£250
Match 4
1 in 3,648
£100
Match 3 plus Thunderball
1 in 1,437
£20
Match 3
1 in 111
£10
Match 2 plus Thunderball
1 in 135
£10
Match 1 plus Thunderball
1 in 35
£5
Match Thunderball
1 in 29
£3
Overall odds of winning a Thunderball prize are 1 in 13.
Thunderball prizes will only be worth less than their advertised amount in the extremely unlikely circumstance that the total prizes to be paid out in a draw are more than four times the value of total entries into the game.
Anyone playing Thunderball online will be notified by email if they have won a prize, while players who purchased tickets from retailers will have to check the winning numbers after a draw. Prizes can be claimed up to 180 days after the date of the draw; after this time, any unclaimed prizes will be donated to good causes.