How to Play Baccarat
A classy game which traditionally appealed to high rollers and is often held in its own separate section at a casino, baccarat can also be enjoyed by new players as it is simple to understand and has a very low house edge. Players just have to bet on which of two hands will be closer to nine and soak up the special atmosphere of the table as they look to beat the casino.
Where to Play Baccarat
Baccarat is popular at many casinos and can be played at many venues across the UK, including the Colony Club in London and Genting Casino Newcastle.
It is also a fun game to play online and is available at sites such as InterCasino, William Hill Casino and Grosvenor Casino.
InterCasino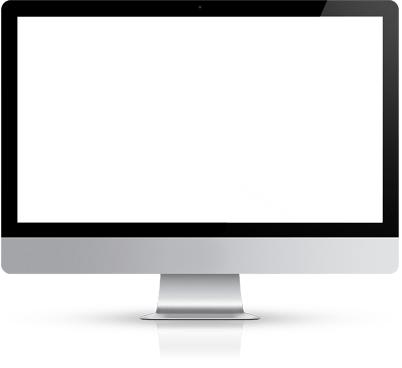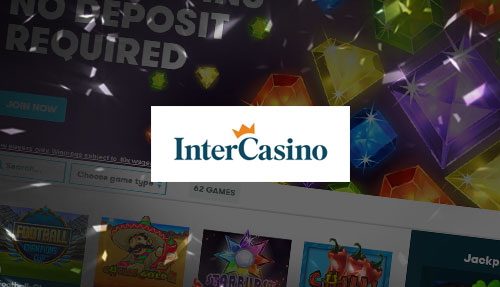 Play Now
William Hill Casino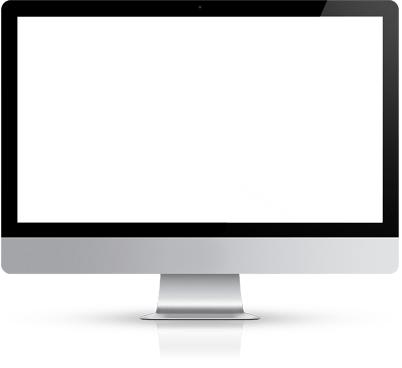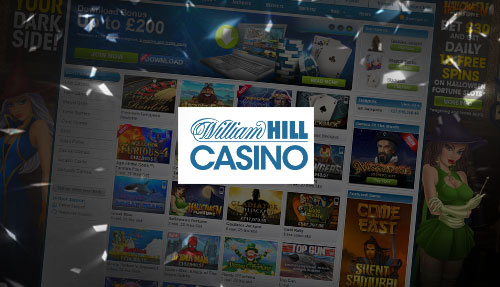 Play Now
Grosvenor Casino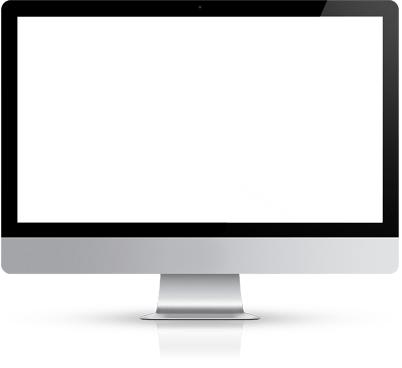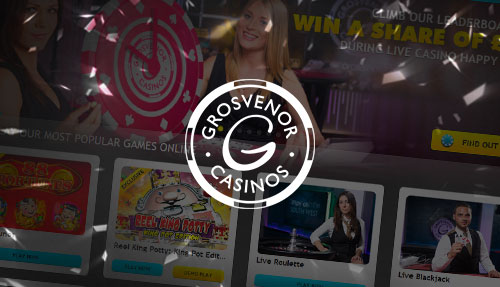 Play Now
Basic Rules
Typically played with six or eight decks, a game of baccarat begins with bets being taken on which of two hands, one belonging to the player and one to the banker, will be closer to nine. Aces are worth 1, number cards count as their face value and all other cards (10s, jacks, queens and kings) have a value of zero. As soon as the total goes into double figures, the value is reduced by ten, so it is impossible to go bust as with games like blackjack. For example, a six and an eight (totalling 14) will be worth four, a three and a nine (totalling 12) will be worth two, and so on. It is also possible to bet on the player and banker having the same value.
Baccarat Table Layout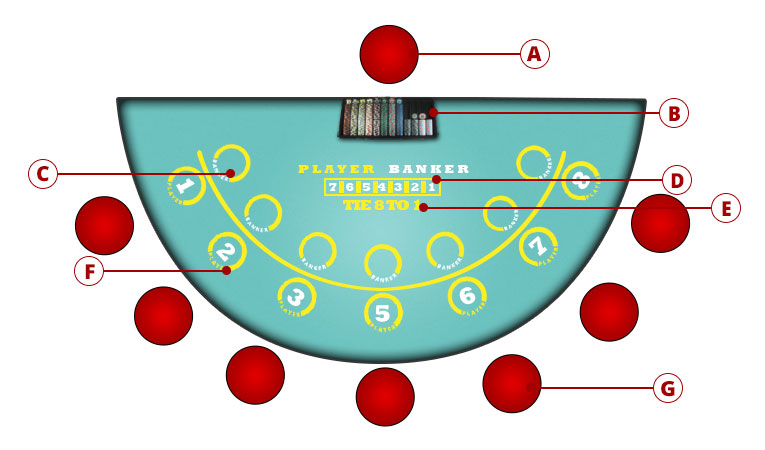 A

Dealer

B

House Chips

C

Banker Bet
D

Commission Box

E

Tie Bet

F

Players Bet
The player and banker will each receive two cards and if either has an eight or nine, no more cards are dealt and whoever has the highest card wins. If neither player has an eight or nine, the rules are applied as below:
The player receives a third card if their total is 0-5, and stands on 6 or 7.
If the player stands, the banker hits on a total of 5 or less.
If the player does hit, then the banker must also abide by the following rules:
When the player takes a 2 or 3, the banker receives another card when their total is 0-4 but stands on 5-7.
When the player takes a 4 or 5, the banker receives another card when their total is 0-5 but stands with 6-7.
When the player takes a 6 or 7, the banker receives another card when their total is 0-6 but stands on 7.
When the player takes an 8, the banker receives another card when their total is 0-2 but stands on 3-7.
When the player takes an ace, 9, 10 or picture card, the banker receives another card when their total is 0-3 but stands on 4-7.
Card Values in Baccarat

At the end of the hand, it is worked out whether the player or the banker has won, and if you bet on the right outcome you are paid out at 1:1. However, as the banker is statistically more likely to win, there is a five percent commission on successful banker bets. All bets on a tie (egalité) are paid out at 8:1, while those betting on player or banker will have their stake returned to them if the totals are equal.
Baccarat can also be split into three different categories: Mini-Baccarat, a low-stakes game in which cards are turned up to move the game along quickly, Big Baccarat, which is the game usually played in casinos and Midi-Baccarat, which has a smaller table than Big Baccarat and only one dealer.
A popular variant of baccarat is Punto Banco, which is largely played the same way but uses different terms. Find out how to play Punto Banco
Baccarat Side Bets
You may also consider placing some baccarat side bets if they are offered by the casino. If available, you can bet on the player being dealt a pair, which will pay out at 11:1, or the banker being dealt a pair, which offers the same payout. Betting on either side to be dealt two cards of the same value pays out at 5:1. Those who are feeling particularly lucky can place a "Perfect Pair" bet, which will pay out at 25:1 if either the player or banker is dealt two cards with the same value and the same suit. This is possible due to the number of decks used in the game. In some online casinos, players can also bet on "Big", meaning that they will be paid out at 0.54:1 if the cards dealt to the player and the banker total five or six. By betting on "Small", they can be paid out at 3:2 if the cards held by the player and the banker total four.
Keep in mind that these baccarat side bets are typically accompanied by a high house edge. However, it can be a great way to enrich your experience at the tables!
Etiquette
When playing baccarat, it is important to understand the rules of the game as much as possible before getting started, because constant questions can annoy other players at the table as well as casino staff. Make sure to respect everyone around you and behave in a civilised manner. Baccarat is one of the most sophisticated games at a casino and a smart dress code is expected at some venues.
You cannot touch your chips in baccarat after placing a bet and do not try to join a table in the middle of a game. Also, bear in mind that it is considered good etiquette to bet on the same side as other players at the table or get behind someone who has called for support.
Only touch your chips when every bet at the table has been settled by the dealer. If you'd like to grab a drink, get more chips or just exchange chips and leave the table, do it in between hands.
Strategy
Betting on a tie in baccarat may sound tempting because there is a possible payout of 8:1, but the odds are slim and the house edge is higher for this wager than either backing the player or the banker. The fact that players who have not bet on a tie get their money back whenever the two hands are equal means that it is a wager which really does have little value.
The banker bet is statistically the most likely to win and, even despite the five percent commission, the house edge is still very low. Even though for some players it may feel unnatural to bet on the banker, it is the most sensible course of action at a baccarat table.
As baccarat is a game of luck and whether you take a third card or not is predetermined by the rules, there is no skill set that can ensure that you win or prevent you from losing. Remember, what happens in one hand has no effect on the outcome of the next hand, so any sort of trends that emerge are entirely coincidental.
However, a number of theories and strategies have still been proposed as to how players can try to ensure success whilst guarding against the possibility of losing sequences, and these involve the use of progressive betting systems. By working out in advance how they will alter the size of their stake depending on whether they win or lose, some players feel confident that they will win money in the long run by wagering on even money bets such as the banker in baccarat.
The Martingale system is one method used on many casino games, including baccarat, and requires players to double their bet each time they lose until they are in credit.
| | Result on Individual Bet | Cumulative Result |
| --- | --- | --- |
| Bet 2 (lose) | £2 loss | £2 loss |
| Bet £4 (lose) | £4 loss | £6 loss |
| Bet £8 (lose) | £8 loss | £14 loss |
| Bet £16 (win) | £16 win | £2 win |
The Martingale system's success rate depends on players having only short losing sequences, because otherwise the table limits may stop them before getting to a winning hand, even if they have enough funds to keep going.
Money management systems are therefore far more important in baccarat than betting systems, so players are advised to set limits on what they spend and not put down more than they can afford to lose.
Important Baccarat Terms
Visit the Casino Glossary for more terms which you might find in baccarat or other casino offerings.