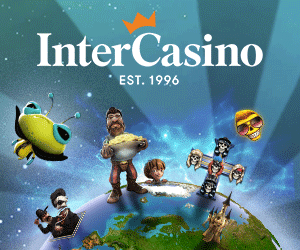 How to Play Red Dog
Sometimes referred to as 'in-between', 'yablon' or 'acey-deucey', Red Dog is a simple casino game that offers good fun and reasonable winnings if you're careful about your bets.
Red Dog is played with one to eight standard card decks, with the house edge lowering considerably as more decks are added. Playing with one deck gives the house an edge of 3.155 percent, while playing with six decks drops the edge to 2.798 percent. Using eight decks lowers the edge to 2.751 percent. In online casinos, an automatic card shuffling program is used to create a truly random deck for the duration of play.
The player makes a bet (ante) and two cards are dealt. If the first two cards dealt are consecutive, such as a six and a seven or a queen and a king, the hand is declared to be a pushand the player's stake is returned to them.
If the first two cards are equal, such as two sixes or two fives, a third and final card will be dealt. If that final card has the same value as the first two, the player gets an 11:1 return on their payout. If that card is not the same value, the hand is declared as a push and the stake is returned to the player.
A spread is declared if the two cards dealt are not consecutive or of equal value. At this point, the player can choose to double their bet (raise) or call. A third and final card is then dealt. If this card falls between the values of the first two cards, the player wins. If not, they lose.
For example, if your first two cards are two and seven, you would have a four-card spread. At this point, you could choose to raise or call. If the third card dealt is a six, you would win the hand. However, if the card dealt was a seven or an eight, you would lose your bet.
Where to Play Red Dog
While Red Dog isn't particularly popular in land-based casinos, it has enjoyed a considerable amount of success with online players. NetEnt has produced a well-received version of the game that is available at Mr Green Casino, while InterCasino and 32Red also offer variations.
Strategy
While lower spreads have better payouts, the odds of you winning that hand are much longer. For example, a one-card spread pays out 5:1, but your odds of winning are just eight percent. Spreads of four or higher will pay out at 1:1, with the likelihood that you will win the hand increasing as the spread grows larger. A seven-card spread offers a 54 percent chance that you will win, while an 11-card spread brings that up to 85 percent. A good rule of thumb is to call on spreads of six or less and bet on spreads of seven or more.
Important Terms: